England tours
A lot for a real explorer in England!
Just 40 minutes by train from London Waterloo station and you find yourself in the magnificent Historic Royal Palace Hampton Court. Then the next stop – Windsor castle, Queen Elisabeth II official residence and Royal house for the last 900 years. Two hours drive away from London lays the romantic Leeds Castle owned in different periods by no less than six English Queens, home also to flocks of wonderful black swans. Next stop – Stonehenge, the mystic construction of standing stones of the Neolithic period; followed by Bath, city famous for its well-preserved Roman baths, fine Georgian architecture and its cobbled streets mentioned in Jane Austen novels.
Take a map, find your favourite place and book a tour, easy!
Three or more hours from London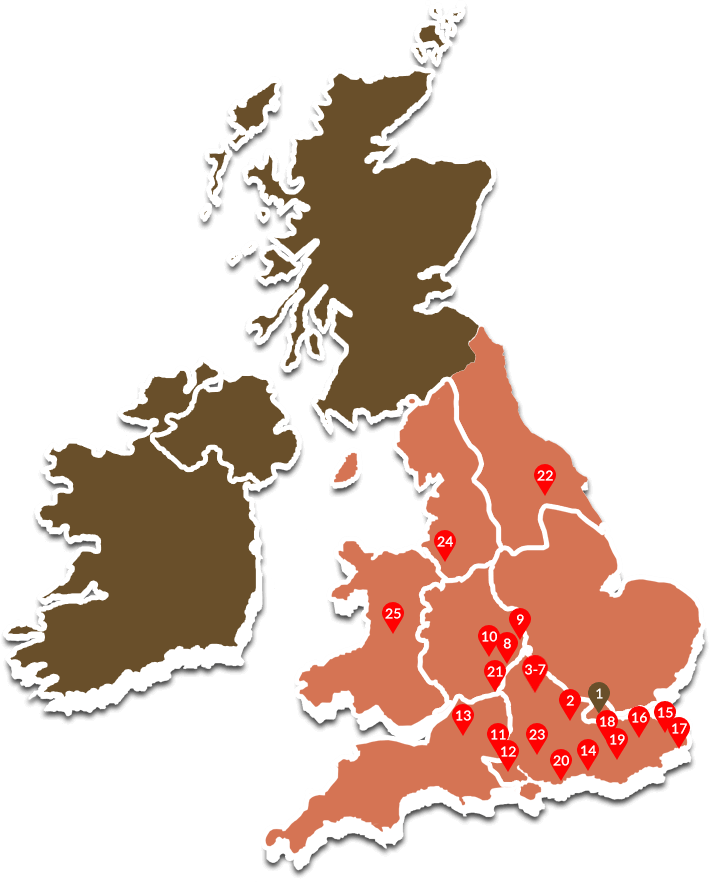 | | |
| --- | --- |
| 1 | London |
| 2 | Windsor Castle, tour to the Royal Residence |
| 3 | Oxford city walk & visit to university colleges |
| 4 | Oxford, Alice in Wonderland |
| 5 | Ashmolean Museum tour |
| 6 | Oxford, Harry Potter walk |
| 7 | Natural History Museum in Oxford |
| 8 | Blenheim Palace, tour to the estate of Dukes of Marlborough |
| 9 | Stratford-upon-Avon, Shakespeare's birthplace |
| 10 | Warwick castle |
| 11 | Stonehenge |
| 12 | Salisbury city walk, Cathedral visit |
| 13 | Bath city walk, Bath Abbey visit & Roman bath tour |
| | |
| --- | --- |
| 14 | Brighton city walk,Royal Pavillion visit |
| 15 | Canterbury city walk, Cathedral visit |
| 16 | Leeds Castle |
| 17 | Dover Castle & White cliffs of Dover |
| 18 | Chartwell, Winston Churchill private house |
| 19 | Hever Castle, birthplace of Anne Bolein |
| 20 | Arundel Castle |
| 21 | Cotswolds & English countryside villages |
| 22 | York |
| 23 | Winchester, Saxon capital, city walk & Cathedral |
| 24 | Liverpool, Beatles story |
| 25 | Wales, Cardiff Castle visit, city tour, visit to National Coal Museum "Big Pit" |